Wearing the Sculpture
:
Elisabetta Cipriani Gallery
Past exhibition

elisabetta cipriani is delighted to invite you to the multi-artist show wearing the sculpture - the first event at the gallery since the lockdowns. the exhibition will be presenting the gallery's new wearable art collaborations with visual artists from across the globe, new extraordinary jewellery pieces by ec lab jewellers, as well as a talk about the state of contemporary jewellery craftsmanship by the goldsmith's award-winning jeweller john moore.  

entitled after elisabetta cipriani's namesake quarantine project, the wearing the sculpture exhibition is a celebration of her love for wearable art and extraordinary jewellery. the exhibition will present our latest wearable art collaboration with atelier van lieshout entitled the burghers (2021), as well as five new beautiful projects created by the gallery since the beginning of last year: the romantic rongorongo ring, bracelet and earrings (2020- 2021) by tania pistone, the sustainable s(h)avings earrings (2020) by maria sole ferragamo, the playful vases (vaso vida) ring and necklace (2020) by maria nepomuceno, the ecologically meaningful earrings and pendant cacoons (2021) by sissi, the spiritual totem necklace "hero" (2021) by aigana gali, and the sculptural, primitivist pieces by gigi mariani. i will also be presenting new sassi brooches, mirror pendants and segmenti pieces by giorgio vigna.

to celebrate the opening, i have invited my ec lab artist and two-times goldsmith's company award winner john moore to enrich the programme with a talk about his magical dancing jewels, his creative process of making them, and his insights on the current state of contemporary jewellery craftsmanship. the exhibition will be presenting moore's latest masterpiece necklace vortice ii (2020), as well as new poetic works by my treasured ec lab jeweller ute decker, whose pieces are displayed in notable public collections of the victoria and albert museum, musée barbier-mueller, and the swiss national museum. i am also delighted to introduce you to my newest ec lab artist leonid dementiev and his exquisitely detailed cloud rings, bracelets and necklace. continuing the craftsman lineage of his great grandfather, dementiev is the 2020 winner of the prestigious award of the historic 700-year-old worshipful company of gold and silver wyre drawers.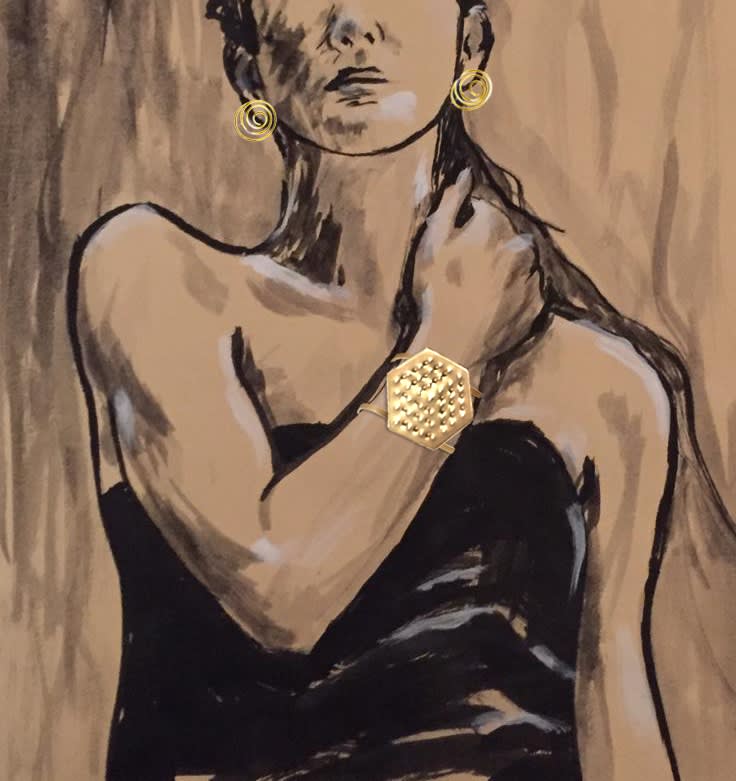 enrico castellani superficie cuff; ute decker infinity spirals earrings
http://www.elisabettacipriani.com/

1st floor, 23 heddon street, mayfair, london, w1b 4bq